kassj.com • The Information Booth
KASS JOHNS • Creative Consultant
---
---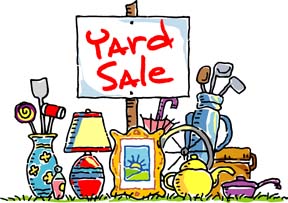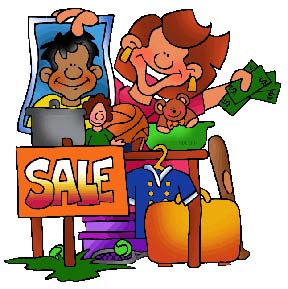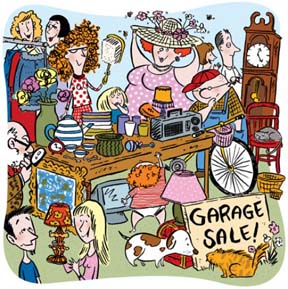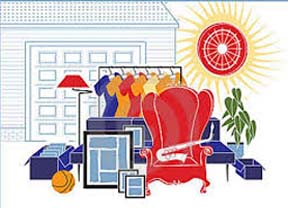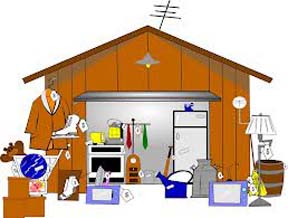 Seller FAQ
(Frequently asked Questions)

New to selling at this sale? This Should Help!

Written and prepared by Kass Johns (3106 TGap)


(On Facebook, look for: Venetian Village Neighborhood Yard Sale)

(SELLERS are encouraged to post details of their sale contents on the Facebook Page for BUYERS to see.)
1. How Much Should I charge for my stuff?
2. How do I Pull a Sale Together?
Both of these questions are answered in the handout Kass wrote: 2_sellertipsprices.pdf
Each household is responsible for setting up their own sale (at their own house!).

Remember that older "collectible" items are often more desirable. Tips:
If it is 50-99 years old, label it as "VINTAGE."
If it is 100 years old or more, it is "Antique."
If it is rusty and/or needs re-painting, it has "patina."
If it is old and broken, like vintage farm tools or rusty mechanical or wooden buckets, tools and such (suitable for garden decor use), it is "primitive."

It's all about marketing!
3. How can I make money with so many sellers?
Wouldn't I make more money selling on my own? Not necessarily. The more sales bunched together, the better. People attract people. A neighborhood, cul-de-sac or block sale will attract far more people than an individual sale. People driving nearby see the crowds and wonder what the heck is going on! It's that "I gotta find out for myself" mentality! We just take advantage of it! With the price of gas, it's FAR more economical for shoppers. Large neighborhood sales (especially one like this with a 20-plus year track record) will naturally attract shoppers. The number of sales split the costs of sign materials and newspaper ads -- no matter who had how much to sell.
WE are NOT saying you cannot have your own yard sale other times of the year. You are welcome to do such if you so desire (the beauty of a non-HOA neighborhood!). If you have it on "our neighborhood" weekend (first full Fri/Sat in August--just after pay day), you become part of the bigger event and so should pay into the kitty for the work done by others.
The exception to this neighborhood sales situation is Estate Sales. Because Estate Sales bring much higher prices, shoppers come prepared to pay much more (some estate sale shoppers won't even attend yard sales). If you have an Estate Sale during a neighbohood yard sale, expect to be low-balled and probably insulted by what a yard sale shopper is willing to pay. You may wish to wait and have an Estate Sale separate from this event.
4. Specialty Items to Feature/Collectibles
THIS YEAR, we are trying to move to being more digitally available to all (sellers and buyers). To list your specialty items, please go to the Facebook page and post your ADDRESS and LIST OF ITEMS FOR SALE. DON'T FORGET YOUR ADDRESS!
Make a sign to hang up by your checkout area telling folks: "If you are looking for something particular, log in to our Facebook page to see what sellers have listed: Venetian Village Neighborhood Yard Sale" (if you have the kids make the sign, make sure Venetian is spelled correctly and that there is no "s" on the word "Sale".)
Shoppers can then log in throughout the sale to see who has what! Have them log into Venetian Village Neighborhood Yard Sale on Facebook. (Or YOU are maybe looking for something particular!) If you have some big ticket items, collectibles or specialties... Let everyone know! When a buyer asks if someone has antiques, tools, watches, teapots, cookie jars, collectibles, Avon, large appliances, baby stuff, or whatever, shoppers can check to see if someone has listed such.
If your sale is a Moving Sale, list it so. Moving Sales means "it has to go" and there is lots of it!
If you have items from your Mom's house after she died, list it as Estate Items, but be prepared to be low-balled on prices by shoppers. Yard/Garage/Tag Sales generally are on the bottom rung of the ladder when it comes to prices.
If you have NO Facebook account/access, email your list and address to Kass Johns (yardsales at kassj.com), who will then post it to Facebook for you.
If you have NO Internet access, please complete the signup form you received with your list items. We can then input the list for you (15 word limit if we have to type it in). We are doing away with the printed sellers list and letting that NOW be the Facebook Page.
5. Rain or Shine!
As always, the sale takes place rain or shine. Some folks sell from 8am "til the rain falls"... it's up to you for your own sale. Be aware that lots of shoppers stick around and wait out short showers. It's up to you for your own sale. At the sale in Kass' Yard, we buy clear "visquene" (rolls of plastic) to drop cloth cover our laid out goods. We do this because we have actually seen shoppers who will continue to shop IN the rain. This way, they can see what's underneath the plastic!
6. Why Sell on Fridays? (Why take off work?)
Sell on Fridays! If you aren't familiar with yard sale money-making, by far, the best day to sell is on Friday. That's when all the big buyers are out with handfuls of cash -- especially dealers (yard sale and flea market vendors, etc). Saturdays tend to be "lookee-loos" who don't buy a whole lot, but still give you foot traffic. If you can take the day off work, the Friday buyers make it worthwhile. Trust me, the buyers are frantic to spend money on Fridays. You can move, maybe, 70% of your goods between 7am and noon on Friday. Have help for selling on Friday so you can take breaks?
7. Furniture
Furniture always goes first thing Friday. Most furniture will be sold by noon on Friday. Take the time to pull out your old/stashed furniture. It ALWAYS sells great (except maybe those huge old entertainment centers). Do what Kass does, download and print project ideas off Pinterest to tape onto those hard-to-move entertainment centers. Give the buyer some creative ideas how to convert it into a kids make-believe kitchen or garage, or kid's room/playroom storage. A new inexpensive piece of plywood on the back will sell it better than a beat up/holey cruddy looking backside!
Cash Only or Checks?
If you don't want to take a personal check, point the shopper to the ATM at 7/11 on Hancock & Fillmore.
8. Lunch Concession?
You and/or your civic/church/non profit group are welcome to sell hot dogs, burgers, sloppy joes, breakfast burritos, or ? for lunch in your yard. Set up the BBQ grill and grill hot dogs and burgers. Sell store brand soda pop, chips and cookies. Don't forget to put out pickles, relish, mustard & catsup. A $3 "Lunch Deal" could buy a burger or hot dog, soda, chips and a cookie! Put your picnic table (or even a blanket), out (in the shade!) for a place to sit and eat. Realize that if we can keep the shoppers in the neighborhood, even for lunch, the more they will shop!
9. Popsicles!
If past sales have shown anything, it is that the Popsicle truck(s) will show up to "work" the sale.
10. Restrooms & More at Holy Trinity
As a part of the neighborhood community, Holy Trinity (on Poinsetta) will again make their facilities available for use by shoppers. They offer free water, rest area, first aid, restrooms, and information area.
11. Ads & Costs
We ask for your email address on the form so we can send you the official email sale notice in July and then you can forward it to your coworkers, friends and family. (Help get the word out!)
We request $10 per sale address for the two Gazette special-bordered ads ($90+ ea), the "1 more week until..." ad and the "week of" ad, Thrifty Nickel (or whatever that classified ad newspaper is now called) ad ($30+), and to help cover the cost of the photocopying signs, flyers and handouts, various sign materials, tape and staples. Annual costs are around $400, including the waterproof (and reusable) signage, as well as putting them up and taking them down. We only ask enough to cover our costs. We hope you understand that $10 is a bargain compared to you placing your own ad in the Gazette (not to mention the crowds that our signs and media blitz attract).
If you know someone who has a sale but does not pay the requested fee, please let them know it is not fair to everyone else for them to gain the value of our signs and publicity without paying their share.
In addition to the classified ads, we will again be contacting the media (radio, TV, newspaper, to see if we can get some free publicity for this annual community event.
12. TAXES and Leftovers
1. If anyone asks, you didn't make more than $300 (or you'll have to report it and pay taxes).
2. You can leave sale leftovers on your curb (covered in case of rain?) for a specific charity of your choice to take (just contact them and label your pile so). Or the "leftovers crowd" come through for a day or two afterwards to go through your curbside freebies. It lessens what you have for the trash can!
PICK UP. Here are some of those charities who would be glad to take it off your hands. Arrange a week or two ahead. Be sure to check their web or Facebook pages to see what they will NOT accept (like TVs, refrigerators, etc)!:
Association for Retarded Citizens (ARC): 1-800-283-2721 or 303-238-5263*
Disabled American Veterans (DAV): (719) 636-2537
Goodwill: 719.635.4483
Salvation Army: 1-800-958-7825 or 719-636-3891
Vietnam Veterans of America: 1-800-775-8387

DROP-OFF ONLY (no pick up available unless stated):
Your favorite Animal Rescue Group can be called for leftover PET SUPPLIES (and people BEDDING & LINENS). Kass loves All Breed Rescue off Nevada on Mount View Lane (719) 264-6460.
Ecumenical Social Ministries: (719) 228-6781 201 N Weber @ Bijou (household & clothing) -- Drop off at South Garage Door on Bijou side.
Springs City Mission: (719) 314-2379 5 W Las Vegas (household & clothing, etc) -- Pick up ONLY for clean and working large appliances and/or furniture

*Some years, The ARC automatically drives through after 4pm on that Saturday to see if folks want to give them their leftovers. If that happens you may just want to label your leftovers "ARC" and leave them on the curb (tarp with plastic or cut open trash bags in case of rain). Sometimes, other charities do the same. Sometimes we will have folks who will solicite same directly to sellers near end of day Saturday. It is up to you how you handle your leftovers.
---
---
© Copyright 1996-2019 v.6.9.15 Kass Johns
The Annual Venetian Village Neighborhood Yard Sale
Colorado Springs, Colorado :: http://www.kassj.com/yardsale/
719-460-2117 (vc and txt)
Please forward your comments to me: yardsales at kassj dot com.